Posted on June 10, 2011
Filed Under cafe | Leave a Comment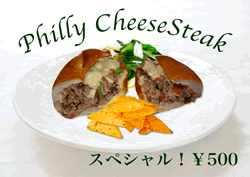 An East Coast American Icon, the Kozmoz Philly is grilled thin cut beef sauteed with onions n peppers and served on a grilled roll smothered in hot melted cheese and topped with Kozmoz special horseradish dressing. Where can you find one in Japan? At Kozmoz New York Coffee of course and wash it down with a cold American classic like Coca-Cola or Dr. Pepper, bottomless of course! Special this week, cant promise it will be here next week so dont wait to get your hands on one!
Comments
// Get wp-comments.php template